ABOUT MAURICIO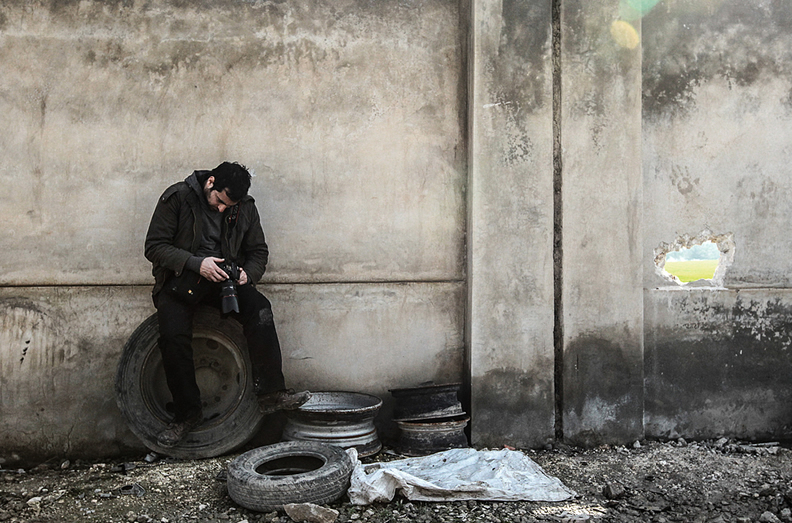 Photo by: Muzaffar Salman
Born in 1982, Mauricio Morales Duarte is a Colombian photo video journalist and a producer with a major degree in Audio Visual Media from Politécnico University of Bogotá. He attended the RISC training in 2014. Has been a fellow in RNTC in Holland for Video and Narrative Journalism workshops in 2015 and 2016. He attended the Reporting Safely in Crisis Zones course in the Dart Center in Columbia Journalism School in 2017. He was selected for the Thomson Reuters Foundation to attend the Uncovering Security Program and awarded a grant to develop reports on environmental conflicts in Colombia in 2018. He is a Logan Non-Fiction fellow in the Carey Institute in 2019. He was nominated twice for the Joop Swart Masterclass of the World Press Photo in 2009 and 2010 and selected for The New York Times Portfolio Review in 2013, a participant to The Eddie Adams Workshop in 2015.
He began his career as a staff photographer for a regional newspaper in Colombia in 2007. He later became a freelance photographer collaborating with NGO's and Colombian media outlets. Since 2012 he has been covering events in Middle East, in Syria, Turkey, Gaza, Libya, Lebanon and Iraq. He continues to cover environmental and conflict issues in Colombia and other Latin-American countries. He has worked as a stringer for the international news agencies, AFP, EPA, Polaris and Sipa Press USA. He has worked as field producer and researcher for ARTE TV, Discovery Channel and Galileo.
His work has been featured in major media such as The New York Times, Time Lightbox, TV5Monde, LA Times, France 24 and The Guardian, among others. He collaborates with Al Jazeera English, Univision, NBC News, Der Spiegel, Vice News, Rolling Stones Colombia, Caracol Noticias, Semana, El Espectador.
He has worked for NGOs, Christian Aid, Aldeas Infantiles SOS Colombia, Environmental Investigation Agency.

Colombia's Universities as, Sabana University, Sergio Arboleda University, Politécnico Grancolombiano, La Salle College and Nikon School Colombia have invited him to talk about freelance reporting in conflict zones.
ACERCA DE MAURICIO
Nacido en 1982, Mauricio Morales Duarte es un fotógrafo, video periodista y productor colombiano con un grado en Medios Audiovisuales del Politécnico Gran colombiano de Bogotá. Realizo el curso RISC en 2014. Fue becario de RNTC en Holanda para los talleres de video periodismo y de narrativa en el 2015 y 2016. Curso el programa para Seguridad en el Cubrimiento en Zonas en Crisis en Dart Center of Columbia Journalism School en el 2017. Fue becario del curso Descubriendo Seguridad de la fundación Thomson Reuters en el 2018 y recipiente de una beca para desarrollar reportajes sobre conflictos ambientales en Colombia. Fue becario del programa Logan de No ficción en la primavera 2019. Fue nominado en dos ocasiones para el Joop Swart Masterclass del World Press Photo 2009 y 2010. Elegido para The New York Times Portfolio Review en 2013. Participante del Eddie Adams Workshop en 2015.
Comenzó su carrera como fotógrafo de planta para un diario regional en Colombia en 2007. Posteriormente trabajó como fotógrafo freelance colaborando con Ong's y medios nacionales. Desde 2012 cubre temas en Oriente Medio desde Siria, Turquía, Gaza, Libia, Líbano e Irak. Continúa cubriendo temas de conflicto y medio ambiente en Colombia y otros países latinoamericanos. Se ha desempeñado como stringer para agencias de noticias internacionales como AFP, EPA, Polaris y Sipa Press USA. Ha trabajado como productor de campo e investigador para ARTE TV, Discovery Channel y Galileo.
También colabora para medios como Vice News, Al-Jazeera English, Univisión, Der Spiegel, El Espectador, Semana, Esquire, Rolling Stones, Caracol Noticias, Semana, donde produce reportajes especiales y fotografías. Su trabajo ha sido publicado en medios como The New York Times, Time Lightbox, TV5 Monde, La Times, France 24, The Guardian entre otros.
Ha trabajado con las ONG's Christian Aid, Aldeas Infantiles SOS Colombia y EIA, en temas relacionados con el conflicto armado colombiano.
También ha realizado charlas y seminarios sobre el cubrimiento freelance en zonas de conflicto para Universidades en Colombia como la Universidad de la Sábana, la Universidad Sergio Arboleda, Politécnico Grancolombiano, La Salle College y la Nikon School en Colombia.